 London independent Stiff Records, who produced the very first punk record by
The Damned
last year, expands today to become more than just a mail order record label. They've signed a licensing deal with Island Records for worldwide (except the USA) promotion and distribution. Stiff will retain the mail order but will have a load more clout with the big boys. However under the new deal their first 8 releases including
Damned's
debut 45 'New Rose' will be deleted.
The Damned
will bounce back though with their highly anticipated debut album which will be out later this month!!!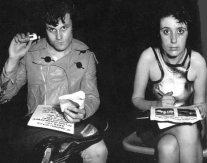 The Rezillos are a 7-piece trashy punk band, and probably the first to make an impression in Scotland. They play an early gig tonight at Jordan College in Glasgow.
The Stranglers play their first gig north of the border at Aberdeen Robert Gordon Institute
The Vibrators play London's Nashville
The Maniax play London's
Speakeasy
Sid Vicious starts starts rehearsing wth the Sex Pistols.

Throbbing Gristle
make a rare 'pub' appearance tonight after their debut Art show with
L.S.D.
(Chelsea) at the ICA, London back in October 1976. The debut show made such an impact on one MP who described them as being "a sickening outrage". They consist of art porn, tape loops and a droning singer. It would take them another year to become the world's first Industrial band.
Generation X play London's Hope & Anchor