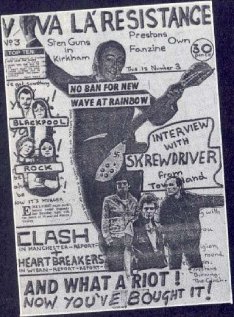 Viva La Resistence
-
(Preston, UK)
Ist Issue February 1977
"The fanzine just happened one boring Sunday afternoon. The name...sums up our resistance against apathy and the state of things today, punk rock for me is a 24 hour occupation...listen to nothing else, I talk about nothing else...I believe it's the greatest thing youth has ever produced." - Roy (18).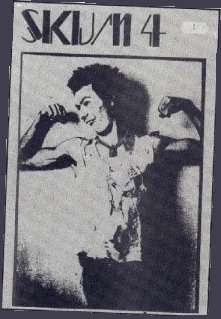 Skum - first issue February 1977 (London,UK)
"After becoming dissilutioned with my heroes, Elton John and the Who, I started frequenting Rock On record shopin search of accessible music. Met Mark P....and bought a copy of S.G. 4 with the Clash. I was inspired by what Mark had to say." - Rick (15)
Tractor play the Mardi Gra in Blackpool tonight
More Punk fanzines emerge this month heres two of em.

Sex Pistol about town Glen Matlock buys a Metallic Blue Sunbeam Alpine car today unknown he is days from being a Sex Pistol.
play the White Lion pub in Putney, London