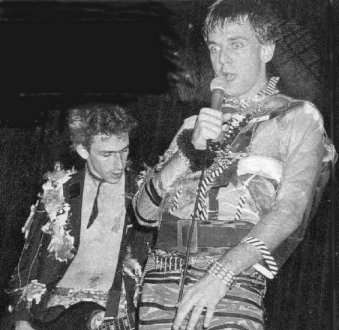 "We couldn't refuse. We performed drummerless for three shows, until our MC, Phast Phreddie, hooked us up with a wild young guy named Nickey Beat. After one rehearsal we asked him to join the band, with the condition that he cut his long hair. Two minutes later he began burning it off, until we stopped him (due to the stench) and assured him that scissors would do the job just fine. As Nickey would tell you, the rest is history."
- John Denney (The Weirdos)
Migrant San Francisco power- poppers, The Nerves and the totally new and fucked up Weirdos from Hollywood, play one of the first ever documented West Coast punk gigs in some LA performance space tonight. The venue was rented out by Nerves leader (and future Plimsoul)Peter Case. The Weirdos are making their world debut despite having no drummer.

play Erics in Liverpool
T.R.B.
do the same at London Dingwalls tonight.
The Damned's - 'Damned Damned Damned' album peaks at 21 in the UK album charts.