Patti Smith / The Damned play CBGB's tonight and it was the fourth and final night of the Damned's New York residence. It wasn't going to be easy either as they were supporting Patti Smith, Queen of the Bohemian set. Patti was making a return to live action after she broke her neck back in January. The Damned however won the more refined Smith crowd over according to some sources.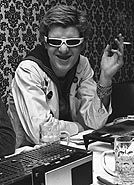 "Patti Smith was a dreadful, snobby 'Rock Star' who sneered at the new British music"
- Captain Sensible
(The Damned) Wayne County /Steel & Skin
play Sound Circus, Kingsway,London.
Stage Fright
play Corby, Glasgow Rangers supporters club tonight. God help em!