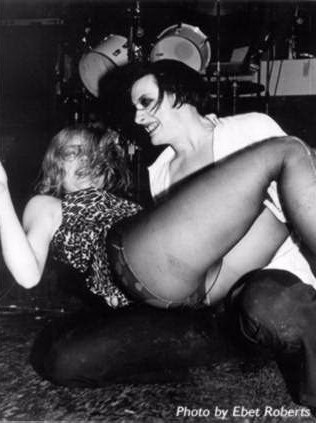 the Damned/ Dead Boys
The Damned
become the first UK punk band to play the US with a New York gig tonight. Earlier in the day upon arriving at their New York hotel, they find a package of "goodies" courtesy of the
Rolling Stones
. The care package includes seven merangue pies, a birthday cake, plus a trio of prostitutes to give any needed comforts. After the welcome party they play the first of four nights at the legendary
CBGB's
Club in New York. The first night was, by all accounts, average. Both
the Damned
and the
Dead Boys
were not on form. Only a blonde girl nearly getting laid on the stage seemed to liven up the evening. The US Press didn't seem to know what had hit them and the general opinion was summed up by the New York News when a reviewer said '
For all their valiant energy their music didn't seem at all remarkable'
.
Iggy Pop & Blondie
Vancouver Gardens,Vancouver, Canada. Meanwhile back in Blighty The Clash despite not having a permanent drummer release their debut album 'The Clash' today. It's an album that would turn out to be a punk standard bearer. Read what Mark P. of Sniffin Glue said about it...
The Boys celebrate the release of their debut 45 'I don't Care' today with a bottom of the bill support slot to John Cale, Count Bishops at West Runton, Pavillion in Cromer.
The Adverts
play London's newesrt rock venue Adam And
Eve's tonight. Adfmission 60p.
Cherry Vanilla and the Police play The Garden in Penzance.
Stage Fright
play The Dog Inn, Sutton Coldfield
tonight.

play the Nashville in London tonight and it's a FREE gig.