The Weirdo's
play their first headline show tonight at the 99 seater Orpheum Theatre in L.A.. It also featured
the Zeros
and, added at the last minute newest bunch of misfits to venture out the LA Garage...
The Germs
.
This event would go down in history as LA's punks great coming-out party!!!
Weirdos lead singer Jon Denney recalls effectionately "the Damned came to check out our show at the Orpheum 16th april, Captain Sensible jammed with us on a bombastic version of "Pushin' Too Hard". But it was The newly formed Germs and lead singer Paul Beahm (later to known as Darby Crash) who seemed to have the most lasting memory. They stole the show not raw talent but a tub of peanut butter & mayonaise!!!!
Meanwhile British punks The Damned were hanging out with
The Screamers
and rado DJ Rodney Bingenheimer.
Here's what Dave Vanium recalls of his first LA visit..."Rodney Bigenheimer and two great guys called Tomata and Gear, put us up in their home. They've got Sid Vicious hair and the glasses and everything, and they were so easy to be with. It was like living in your own home. ",
1988: The New Wave Punk Rock Explosion.
Damian from the brilliantly detailed
The Screamers
site supplied me with this great article by Tomata Du Plenty on his English guests visit. So go to Damian's site for more indepth
Screamers
information.... . Here is a transcript :
"DAMNED DERANGE DESOLATE EL LAY WASTELAND
Dear Twisted,
the DAMNED came to my house to stay. It was for five days, but it passed like a single heartbeat. Nothing could have prepared me for how it would be to have one of England's top ,punk.? bands sleep on my living room floor. I could say the DAMNED were loud, reckless, boozing, violent, sadistic, they tied up young girs, and maybe even perverse.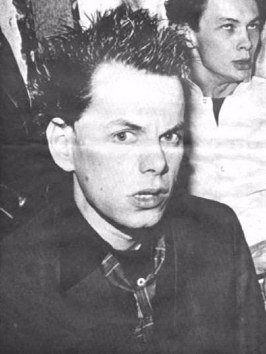 This is all true and very in keeping with their image. "Our name is the DAMNED, because that's what we are!" sez lead singer Dave Vanian. Yet, I felt a fare greater intensity alive in these 4 lads, away from home for the first time. The stark professionalism of their life style could not preculde their insatiable appetite for fun. It served them as the greatest discriminator in choosing their sordid pleasures. The DAMNED are indeed a class act. Dave Vanian, a Gothic spectre, a vampire, a chilling thrill from the crypt, barely uttered a single word his whole time in Hollywood. He preferred to stay in the shadows and listen to Gear's copy of the "Marble Index." He was truly a "son of Nico." Rat on the other hand never stopped entertaining. He was always the first in the door with party hat on, chips and dip and the most twisted knock-knock jokes I ever heard. It was an awesome sight to see this great drummer with a lampshade on his head dropping his drawers. The Captain did his best to satiate the inner lusts of vast armies of El Lay girls. Maybe they were trying to find out why Melody Maker sel: "The Cap, the brighest star, on that only comes around every ten years!" Brian James, the heart throb, threatened lives and wrote scores of postcards back home to London Town. Attending to the boys whims was the president of Stiff records, a one Jake Rivera, who complained about me switching light bulbs, eating potatoes and knowing too much about California history. Ah! what is there to say about their show? Into the Quietude of a disco-doomed world broke discords of a brand new sound human and mechanical. Hatchets were at work tearing my senses apart. It was a queer sensation I was feeling, a hurt, a delicious hurt. "Feel the pain - it leaves no stain. Feel the pain - the name of the game" Brian James copywright. With love from Hollywood, TOMATA"
Twisted Magazine(either #1 or #2)