1977

DATE INDEX
JUNE
JULY
AUGUST
SEPTEMBER
OCTOBER
NOVEMBER
DECEMBER
DATE INDEX
JANUARY
FEBRUARY
MARCH
APRIL
MAY
JUNE
JULY
AUGUST
SEPTEMBER
OCTOBER
NOVEMBER
DECEMBER
1977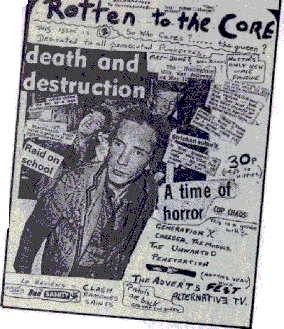 Rotten To The Core - 1st Issue
January 1977
Punk was starting to filter through to the rest of the UK in cities like Manchester, Glasgow and smaller scenes like Nottingham who spawned fanzines like Rottten To The Core.
"I want to put the Sex Pistols on the front of every issue. It's named after Johnny Rotten, they started it all, they made it all possible'. -Dave Chaos (18)
The Sex Pistols and manager Malcolm McLaren return to London from Amsterdam minus their record company EMI and the bassplayer Glen Matlock is noticeably abscent from the picture too.