Begin 4 days of laying down tracks at Gooseberry Studios with Dave Goodman. The 6 Songs getting the once over are 'No Future', 'Problems', 'Pretty Vacant', 'Liar', 'EMI' and 'New York'. Nils Stevenson (road manager) parts company with the Sex Pistols fed up with McLaren who gives him a £300 pay off.

play The Brecknock, London tonight.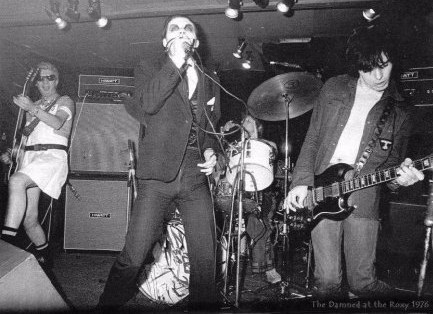 The Damned
and
The Boys
play the Roxy Club tonight.
The Damned's
Dave Vanian dedicates the first number 'I Feel Alright' to Johnny Thunders who's just been busted for drugs, before ripping through a set of manic punk rock.
The Damned
are probably the biggest PUNK draw on the London circuit at the moment. And the audience includes prog rockers like Jimmy Page and Robert plant here to check out the new young threat as well as a few Pistols including Johnny Rotten relaxing after a day in the studio.