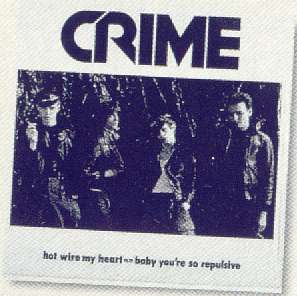 Crime hailed from the Hippy streets of San Francisco, USA. And despite this big drawback (most notably from amongst the more snottier LA scene down the coast) they were as punk as it came. Featuring Frankie Fix (vocals/guitar), Ron 'the Ripper' Greco (bass), Johnny Strike (guitar/vocals) and Ricky Tractor (Drums).This Crime report to your right appeared today in the NME 2 months after the release of their November 1976 debut and was their first British press.

Crime used to walk their local San Francisco streets dressed in full cop uniforms. And this is the band who got paid $100 not to play what would've been their first gig after using a picture of Hitler on the flyer.
Today's New Musical Express also features a 2-page interview with the
Sex Pistols
entitled 'Spittin In The Eye Of The Hurricane'. It's conducted with Malcolm McLaren (the manager), Paul Cook (drums) and Glen Matlock (bass) while in Amsterdam. There's also
the Vibrators
gig review (see
January 5th
). It is also announced today that the
Sex Pistols
'Anarchy In The UK' has sold 55,000 copies before being withdrawn by EMI records and despite receiveing only 5 plays on the Radio.
Bethnal a hard gigging band of street rebels from Wood Green had one distinction, an electric violin to give their energetic songs an identity. They play Traceys, Ipswich tonight. And The Adverts make their world debut supporting Generation X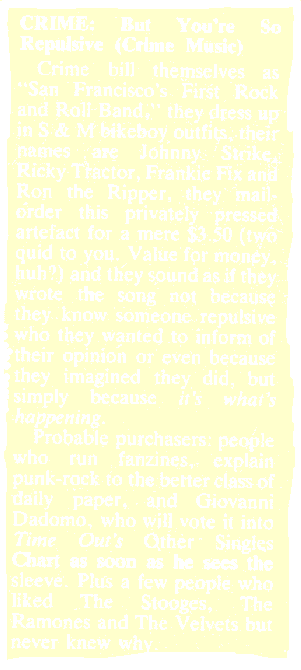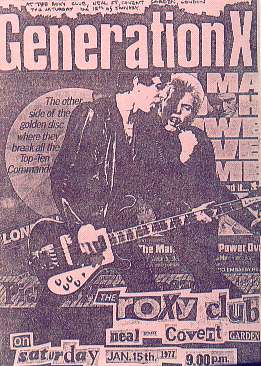 "Idol holds the mike like it was a python going for his throat and screams and spits out the words as his face contorts and turns purple. James makes his runs back and forth across the stage, Bob Andrews stands motionless and Towee whacks hell out of his shiny drumkit." - Tony Parsons reflects on tonights Generation X performance