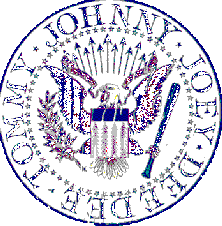 The Ramones
are in the middle of a record company battle over lyrics on their latest LP "Ramones Leave Home". The track "
Carbona Not Glue
", is about sniffing Carbona, a solvent that was a cheap teen high in the
Ramones
' youth. The complaint from Tony Morris, Managing Director of Phonogram UK is, "...we cannot promote any product which extols the virtue of dope.As you know , we had correspondence with the Home Office about glue sniffing and Carbona is apparently available and more dangerous than glue." On the other side, Ramones manager Danny Fields replied that, " You're entitled to your feelings about the use of drugs of any sort. But what your're attempting to do is set yourself up as judge and jury. This is censorship, a far greater evil than either Carbona or glue and something that in good conscience, I cannot be a party to". The record company's idea is to replace the track on the LP with another song, possibly an already available, non-LP flipside called "Babysitter". If not this , they'll simply leave the album stand at thirteen tracks. There are currently about 5000 copies of the LP in the shops on both side of the Atlantic with the "offensive" track. Whatever anyone thinks of the controversy, they do have to deal with the fact that "Carbona" is a trademark name that was used without permission, Whether the song encourages deviant behavior or not may not be the deciding issue.