Personifiers of punks 'I wanna have a go' spirit , the schoolkid quartet Eater who recently signed with Pistols acolyte Dave Goodman's new label, imaginatively called The Label. Release their debut 45 today called 'Outside View' / 'You' which was written during a science lesson at school.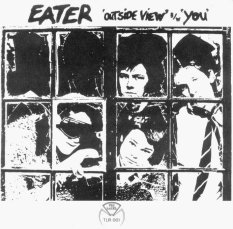 play York University, York tonight.
The Damned
are booked for a ten date support slot on Marc Bolans curent UK tour.
A new East End band play the Rochester Castle pub in London tonight, they're called Cock Sparrer.

are pissed up and signing the A& M contract for the second time in 24 hours, but this time in front of the media outside Buckingham Palace. They return to the Regents Palace Hotel in Picadilly for the press conference littered with four letter words and bodily noises while announceing 'God Save The Queen' as their new 45. They then relocate to their plush new Record Labels offices on the New Kings Road and create more mayhem by smashing a window in the Ladies toliet, assaulting a female member of staff, sick on the floor and left a trail of blood on the carpet. Mr Green the Managing Director wasn't too pleased!
Cherry Vanilla &
The Police
play Erics, Liverpool tonight.