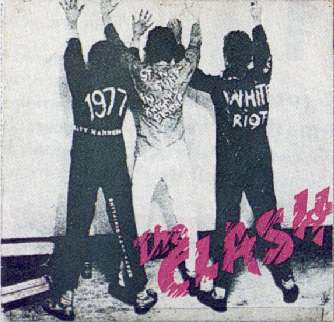 The Damned
climax their support slot on the T-Rex tour by playing the Rainbow theatre in North London tonight. Rat Scabies is told by the management not to set fire to his drums so he does it twice!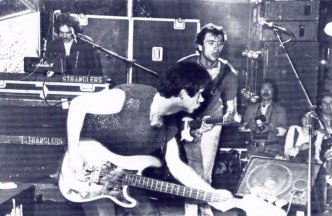 gigging machine takes on the Sussex Centre in Brighton tonight.

continue to hit the capitals gig circuit by playing Southbank Poly tonight.
Slaughter & The Dogs
return to the Roxy tonight along with the eternal support act Johnny Moped

today
at long last deliver their debut 45 consisting of 1.58 minutes worth of rampaging guitar on their insurrectionist 'White Riot'. Inspired by the previous years Notting Hill riots and premiered at last September's 100 Club punk festival, this street anthem made for a formidable short, sharp, shock! Strummer chants the chorus in an eery robot like way as the song careers along fueled by Mick Jone's savage guitar solo's. Only catching their breath briefly as Strummer sneers
"are you taking over, or are you taking orders, are you going backwards, or are you going forwards?"
This was a punk rock prototype and along with the by now widely sampled UK cop siren and shop alarms, made for a far superior version to the forthcoming album take. Backed by the slightly less intense riffing of '1977', but with hindsight was visionary with that corrosive guitar riff and apocalyptic outlook! Together with the Beider Meinoff street-guerrila pose on the front cover and sheer adrenaline alone this was an undisputed punk rock classic!
The Ramones
album
'Leave Home'
has been re-released with the song 'Carbona not Glue' unwittingly dropped from the LP because it was a violation of the copyright name "Carbona". It's being replaced with another new
Ramones
track 'Sheena is a punk rocker', Da brudders wern't too pleased with what they felt was "censorship" and "over reaction".
Iggy Pop & Blondie
plays the Palladium in New York City tonight.
Tom Robinson Band
play London's College Of Art & Design.
Rezillos
play Queens College, Glasgow tonight.