Birthday of Gary Numan (Webb) of the soon come Lasers, Tubeway Army in Hammersmith, London in 1958.

"I'm becoming very familiar with the Roxy's toilets, since I spend a lot of time in them, either shagging young punkettes or shooting up whatever I can get my hands on - usually speed, but when the Banshees play I can afford smack".
- Nils Stevenson
(Siouxsie And Banshees Manager)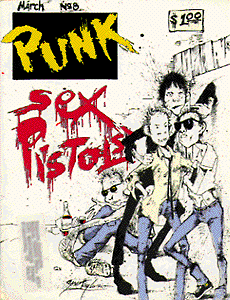 "A guy called Steven Taylor did this cover. Instead of drawing with a pen, he'd use an ink dropper or a broken quill and scribble with that and get ink all over the place, he didn't want a firm control over the ink. Mary Harron's (now a film director whose fillms include American Psycho) interview was astounding. It's the only time I've ever heard Johnny Rotten talk candidly, he's sincere about everything"
John Holstrom
(PUNK mag founder)
PUNK Magazine founded in 1976 -79 and based in New York with bold illustrations and handwritten articles ignited the punk fanzine scene.