Ramones
release their second 45 on Sire Records and it has nothing to do with sniffing glue or copyrighted brand names and is guaranteed not to upset anyone.
"I Remember You"
doesn't tear along at 100 mph. It's actually a melodic , medium tempo, pop song that can be found on the band's troublesome second album, "Ramones Leave Home". It's backed with two live songs,
"I don't wanna walk around with you"
and a surfin' cover of the Riverias'
"California Sun"
.
IGGY POP

Play the last of the 2 nights at the Rainbow Theatre London, UK, endng the first first leg of Iggy's tour in Europe. Iggy will return Stateside before resuming the tour in Montral later this month.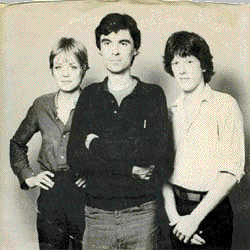 TALKING HEADS
the geeky side of the New York new wave scene release their debut 45 today on Sire Records (The Ramones label). It feature 2 David Byrne compositions 'Love Goes To Building On Fire'/'New Feeling' The trio consist of David Byrne vocals/guitar, Chris Frantz on drums and Martina Wymouth on Drums.