The Clash, the newly stitched up Generation X and the first ever all girl punk band The Slits, play the Colliseum, Harlesden London tonight. The Clash part company with original drummer Tory Crimes (AKA Terry Chimes) after tonights show. He wasn't happy with the bands direction and has only been sitting in till they find a replacement.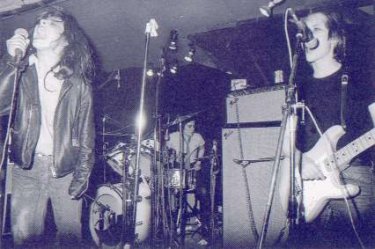 The Slits making their world debut tonight formed in January 1977 and consisted of 4 very loud and uncompromising teenage girls one of whom (Arri Up the singer) is only 14! They "splattered onto the scene like a bursting boil!" said one critic. They live up to that description and after only 3 gigs are thrown in at the deep end as bottom of the bill support on the Clash's forthcoming 'White Riot' Tour.
The Buzzcocks
play The Vault in Brighton tonight.
Johnny Thunders And The Heartbreakers sign a one off record contract with the suitably named Track Records. However nothing materialises till May.
play Berkshire College, Reading tonight.

play C.F.Mott College, LiverpooL tonight.
Shakin Streets & The Zips play the Roxy tonight.
The Prefects make their world debut at a drunken party in Woodstock Road Birmingham tonight. "We got pisssed, trashed our equipment and the party ended with 5 police cars on the doorstep!" - Alan Apperley (The Prefects)