"While manager Malcolm McLaren clinches another production deal worth £26,000 with Barclay Records of France. A deal for the sole rights of Sex Pistols material in France, Switzerland, Algeria and Zanzibar!(sniggering Don't Care). Back home the Sex Pistols are linked with right wing politics in London Weekend Television's The London Programme. An interviewer suggests there is a connection between the National Front movement and the Sex Pistols.The band denied this through a statement issued by McLaren that was published in London's Evening Standard.....

"The Sex Pistols are not into ANY political party, least of all the loathsome National Front. I think it is extraordinarily irresponsible and dumb to give that scummy organization a load of free publicity by connecting them with us (The Sex Pistols).. .Anarchy is not fascism but self rule and a belief in following one's own way of life without recourse to any form of dictatorship of nationalism. We hate this kind of army nonsense."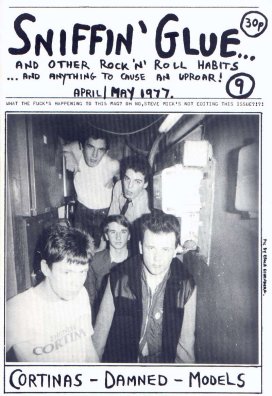 This months Sniffin Glue features the Cortinas as it's cover stars, while inside we get the Damned live review,The Models,Johnny Moped and a New York City piece. Mark P. has taken time out to concentrate ion his band duties. The Jam, Buzzcocks, Subway Sect and The Slits all play the Electric Circus in Manchester tonight.
ADAM AND THE ANTS
Two days before their live debut, at the ICA on May 10th, Ants guitarist Lester Square quits the band. Mark Gaumont (a.k.a. Mark Ryan or the Kid) was quickly drafted in and barely had time to learn the changes.