new 45 'God Save The Queen' makes single of the week in all the UK music weeklies, plus they score frontpages in most and in the New Musical Express they get a massive 9 page overkill.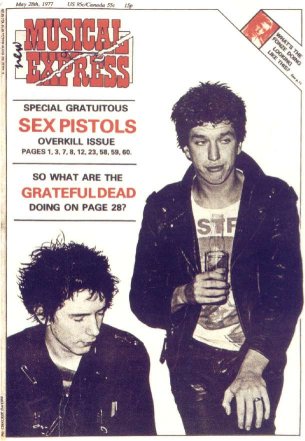 Parliament in those days could actually do something to damage you. The institutions were all hand-in-glove together. Everything was safe and structured and organised and we were a spanner in the works. By then, the press overexaggeration had made us infamous. But infamous and broke doesn't quite work. I still had to bunk fares on the subway, I still had to avoid the bus conductor, all that while you're on page one of the Daily Mirror. Believe me that's hard.
Johnny Rotten - 2002
Johnny Thunders & The Heartbreakers
Cheltenham Town Hall.
play Canterbury, Odeon tonight. Jean-Jacques Burnel of The Stranglers leaps from the stage to attack an audience member for spitting.
TELEVSION/BLONDIE
Hammersmith Odeon, London tonight
THE DAMNED
The Adverts
play Erics, Liverpool, England

Buzzcocks, Subway Sect and The Slits
play Leicester De Montford Hall tonight.