THE DAMNED
The Adverts
play the pier pavillion in Hastings tonight. For those who couldn't make the gig they could've tuned into the 'In Concert' programne on Radio 1 which broadcast their gig from the 19th faeaturing... I Feel Alright · Born To Kill · Sick Of Being Sick · Neat Neat Neat · Fan Club · Stretcher Case · Help · Stab Yor Back · So Messed Up · New Rose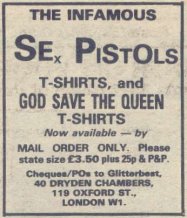 The New Controversial Sex Pistols T-shirts are made available to the UK populas today.

play Bletchley Leisure Centre tonight.

.
Buzzcocks, Subway Sect and The Slits
play St Albans City Hall tonight.
But the real cause of controversy was the Slits....

'Every morning,' 'the coach driver had to be bribed to let the Slits onto the coach. Everywhere we went, we had to almost be strapped to our seats, every hotel we had to be smuggled in. We were not being nice little girls ... If we'd been men, it would have been: "Oooh aren't they great, you know, like the Stones or the Pistols." Because we were women there was this constant sexuality. The coach driver had to be bribed, but because his sexuality was disturbed by this contradictory image of these pretty women with wild, matted hair. Ari's sexuality, only fourteen, a skirt that didn't hide her bum. He must have found it so threatening and so exciting at the same time.'
Viv Albertine (The Slits)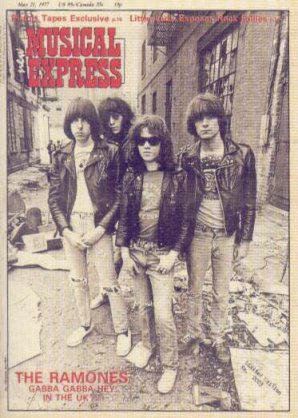 The Ramones
make the front page of this weeks New Musical Express. They play Glasgow Strathclyde University tonight along with the Talking Heads.
Johnny Moped
plays the Roxy tonight.
Penetration
make a rare appearance in Newcastle tonight.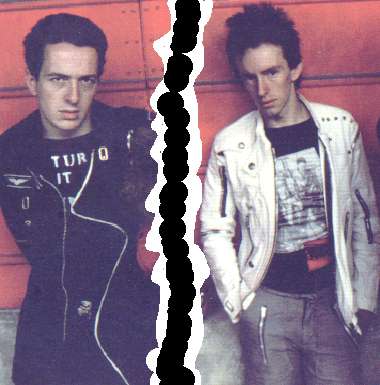 The 'White Riot tour' was turning into a free for all off stage, the bands were going wild just like the bonafide Rock groups they were so desperate to shoot down - It was complete chaos, and it seemed hardly surprising when the police stopped the group's bus on 21 May after their St Albans gig and Joe Strummer and Topper Headon were taken to the local station, stripped and searched. The police found nothing, but when they searched the band's coach they found pillow cases, keys and towels from the Holiday Inn at Seaton Burn near Newcastle where they had played the day before the game was up for two guttersnipes. For this massive offence Joe and Topper were charged with theft and released on £20 bail each.

'You could throw things all over the place, get the fire extinguishers out"
Vic Godard (Subway Sect)