The Ramones/

Talking Heads

play Doncaster, Outlook Club tonight.

.

Buzzcocks, Subway Sect and The Slits

play Top Of The World, Stafford tonight.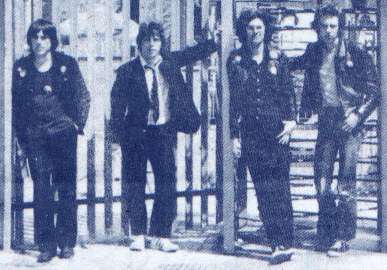 999
play at The Hope & Anchor, London.
SKREWDRIVER
from Blackpool play their London debut tonight at the Rochester Castle.
THE BOYS/X-RAY SPEX
are sweeating it out down The Marquee, London.

have a promo film shoot for their new single "God Save The Queen" today. It's shot at the Marquee by Julien Temple, a young Student film maker whose hooked up with Malcom McLarten for a fillm project. The video is for potential use on the Top Of The Pops TV show.

"The shoot was chaotic with Johhny Rotten acting like a prima donna and Vicious still ill. Yet somehow the atmosphere of madness worked well - the footage was both electric and humorous."
Jon Savage
(Englands dreaming)
Meanwhile over in Belfast, Northern Ireland new bands are forming too. One of those who got together this month were a group called Stiff Little Fingers. They take their name from the The Vibrators song. They intend to write and sing about their native trouble-torn City, with first hand knowledge. The group is comprised of Jake Burns lead guitarist and vocalist, Brian Faloon on drums, Ali McMordie on bass and Henry Cluney on rhythm guitar.