1977

DATE INDEX
JUNE
JULY
AUGUST
SEPTEMBER
OCTOBER
NOVEMBER
DECEMBER
.

Buzzcocks, Subway Sect and The Slits

play Skindles, Maidenhead tonight. Their debut album enters the UK top 20 album charts today.

The Ramones/Talking Heads

play Manchester Electric Circus tonight.

Television and Blondie

start their debut British tour at The Apollo, Glasgow tonight. (for the full review see below)

"The British tour was fantastic. I would pogo around and either I would have my dark glasses on so I couldn't see anything, or I wouldn't have any glasses on at all, which was just as bad, because I'm short-sighted."

Gary Valentine (bass player, Blondie)




"I always used to wear my old jacket to punk gigs ass it used to get a buit spitty!"

Debbie Harry(Blondie)

Television, Blondie GLASGOW, APOLLO
TOM VERLAINE and Television pulled off a near-miracle with their British stage debut by actually justifying the incredible things promised of them. I must admit that when I first heard "Marquee Moon" I thought Nick Kent and others had lost their marbles. Although I subsequently relented, in the unusually gloomy atmosphere of the Apollo I still had presentiments of a Springsteen type debacle.
It wasn't packed, the old Apollo, but attendance was kind of intriguing in its diversity. The Glaswegian rock-out regulars were out in strength, looking exactly the same as they always have - it might as well have been Quo on, to judge by audience appearances. Keeping apart were clusters of boys who had torn their shirts and put on ill-knotted neckties for the occasion, while the odd girl or two had splodged a bit of bleach and pink dye round the short back and sides.
Weirdo of the night was a character in a Ku Klux Klan hood and shades. Is it a punk terrorist or a new wave nun? Having just oinked my way through several platefuls at a carvery, I was pretty sure I was going to throw up, which probably accounts for the pessimism, but Tom Verlaine wasn't in the pink either. He woke up that morning with a fever and had to have a doctor just before the concert. On top of that, the band's equipment had been held up in customs, so they hadn't had a rehearsal.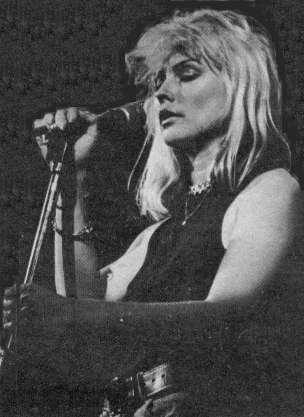 Blondie opened with a scream and a tear through "Kung Fu Girls", Debbie's fringe standing up on end. Wearing jeans and a black shirt, she struck poses like Chinese action pic star Angela Mao, and her dark hair with platinum crown and sides reminds me of Disney's Cruella De Vil. I really, really like Blondie, and I was upset that the gig was a very unfortunate one for them. Debbie Harry has made a classic girl's rock and roll fantasy into her own reality, and I like the way she adds to the Face and the pouting Spec-toral Voice business with dry and dirty humour.
But Blondie are not ready for venues like the Apollo, and I doubt whether they will fare much better in similar joints such as the Odeon. Fighting with a dire sound, and probably nervous, the band was all over the place. And Debbie's frenetic go-go dancing became more wearing than involving as her lyrics and breathless New Yawk goilie raps ("Hiya suckers . . . something something, pant pant . . . and that's all I'd like to say right now") were swallowed up beyond recall.
They whizzed through "In The Sun", "Little Girl Lies" and "Look Good In Blue" to little movement in the audience, so new unfamiliar numbers like the frenetic "Detroit" and even "I Didn't Have The Nerve To Say No", with a fabulous vocal, practically laid down and died. "X Offender" was a disaster, the monitors conking out and Debbie stopping the band to kick the duff equipment and explode in a tantrum. Rather generously, the audience applauded a lot even though they kept to themselves during numbers, and the band got an encore for trying hard. Debbie blurted out the Daytonas' "Little GTO" with rather desperate verve and rushed off. Christ, I wish they'd been booked into clubs for this tour. I saw them in a small club in the States and they were great, so it will be very sad for them if they can't pull themselves together for the rest of these crucial dates.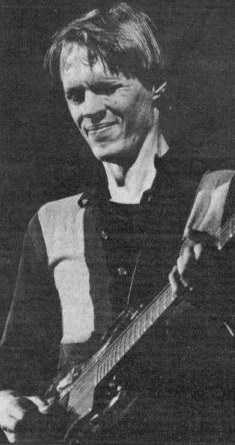 I WAS STEELED for the worst when Television came on, but the sound was suddenly healthy and, wonder of wonders, the audience brightened visibly from the word go, seemingly very familiar with "Marquee Moon".
There was a preparatory boogie type rush to the stage at the first notes of "See No Evil", but as the nature of Television became apparent people subsided into their seats, transfixed by what I have to characterise - however trite this may sound - as a goddamned, certified, intense listening experience, folks. Television's approach is one of almost cold-blooded clarity brought to outrageously sophisticated, energetic rock. The Apollo DJ hailed them as "the ice kings of rock" and I'm damned if he hasn't just cracked it. Not only are there no theatrics, no fetching poses, no attempts to communicate physically with the audience - you can hardly see any of them breathing even.
The wan, angular Verlaine, his transparent guitar reflecting light, is the natural (or unnatural) focus of attention. Although a lot of his lyrics
were unfortunately indistinguishable, his admittedly unlovely whine rasps into your brain, passionate and penetrating "like some new kind of drug".
While so still and almost undefined physically, the rest of the band are pretty fascinating. There's Richard Lloyd, apparently effortlessly cutting out neat, sharply elegant phrases; drummer Billy Ficca, unobtrusive to the point of invisibility, tirelessly inventive; light-fingered bassist Fred Smith, shadowing Verlaine so deftly. Nothing is thrown away and yet nothing appears to be done for effect. If this is beginning to sound like gibberish it's because I am gibbering. I guess I'm supposed to mention they did "See No Evil", "Venus", "Elevation" even better than on the album, "Friction" and a newer number called "Adventure". In the early numbers it was Lloyd providing the most sparkly guitar solos. Then, on the now-famous cult number "Little Johnny Jewel", Verlaine screamed off with a ridiculous (as in terrific) ringing caper through the upper registers.
Together Verlaine and Lloyd look like pulling off what we've always hoped for from two lead guitarists, constantly slicing away from each other onto indirect routes and back to converge. In "Marquee Moon" Lloyd provides the rhythmic climb behind Verlaine's pacey chord development to an incisive climax. Whew, friends. Very whew.
If this all sounds rather heavy, there are some surprising bits that are fun, too - Dylan's "Knockin' On Heaven's Door" and, for an encore, a hair-raising "Satisfaction".
If Verlaine was sick that night and the band was feeling rusty, as Lloyd later said, then I sure want to see them when they're 100 per cent happy. Barring an act of God I'd guess that what happens at the end of the tour, when they've worked their way south, should be incredible. "Ice Kings Of Rock", huh? I like it.
Angie Errigo (New Musical Express May 28th)