1977

DATE INDEX
JUNE
JULY
AUGUST
SEPTEMBER
OCTOBER
NOVEMBER
DECEMBER today marked the day for their headline nationwide tour, commencing in Guildford Civic Hall tonight. Topper Headon on drums
having proved himself in Paris completed the new permanent
Clash
line up. During May,
the Clash
spent their CBS money on a month-long jaunt through 1,000 seater capacity venues, although nobody knew it at the time, was the last great Punk tour. Featuring sporadic appearances from
the Jam
and the cream of the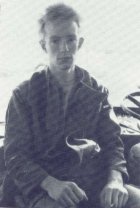 inner-circle Punk groups
Buzzcocks
,
Subway Sect
and the
Slits
. The 'White Riot' tour covered 30 dates around the UK.

''It was the first proper road show, because the Anarchy tour hadn't managed to do that. It's notoriety went ahead of it like a leper's bell . . . The Clash played everywhere with the Slits, the Subway Sect and us. It was great, everyone got on with one another, it was actually working. There was something there, and it was outside the established music business.''
Pete Shelley - (Buzzcocks)