Buzzcocks, Subway Sect and The Slits play Leicester Polytechnic
tonight. But today the Clash were gonna find out just what it was like signing to a major label. Without consulting the group, CBS had taken 'Remote Control' off their album and put it out as a single. It was to be the first of a seemingly endless series of rows between the group and the record company. For the review click
here
.

The hepatitis-stricken Sid Vicious is released from Hospital today fit and well enough to go and score some more Smack with his only regular hospital visitor Nancy Spungeon.
THE DAMNED
Friday 13th is a bad day for some, especially hotels on the Damned's tour route. They were now bona fida rock stars with a few hits under their belt and seen fit to headline their own tour of the UK...The Damned (who can now play three chords) and The Adverts (who can play only one) swere a match made in Hell. Rat and Captain took to being permanently sauced on the free beer upon which the music industry thrives on. The drinking got worse so did the escapades its gonna be a busy 2 months.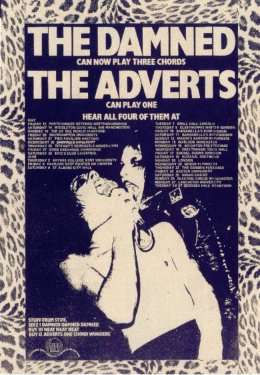 They kick off the tour at the Porterhouse, Retford Notinghamshire tonight.
The Roxy Club's 'New Wave Nite' features new band London whose drummer John Moss, later drums for The Damned before really plumbing the depths with some band called Culture Club.

London, Royal College Of Art
Liverpool, Erics
TOM ROBINSON BAND
London, N. London Poly
CHELSEA/MODELS
The Winning Post, Twickenham
KICKS/THE POLICE
London, Dingwalls