JOHNNY THUNDERS AND THE HEARTBREAKERS Return to the UK after a tour of Holland, Belgium and France and play Birmingham, Rebecca's tonight.

Also return from Euyrope play their regular hangout London's Marquee club.

bunk off school and play Manchester, Chorlton Oaks
play The Nags Head, High Wycombe, Bucks tonight.
North of the border Edinburgh punks REZILLOS support soft rock Cafe Jaques at Edinburgh, Art College

Buzzcocks, Subway Sect and The Slits resume their tour at Nottingham Palais tonight.

have been the subject of rampant speculation about where they will be working next. Rank outsiders Virgin Records announces that they've signed the Sex Pistols today! And for what seems a considerbly reduced fee compared to their previous owners EMI, A&M. It is the Pistols third recording contract in eight months and they sign for an initial payment of £15,000 to cover one Sex Pistols album. McLaren insisted that the sum be paid, not all at once, but in twelve instalments, as individual tracks were delivered. One month later, a further £50,000 advance was paid for Virgin's right to release Pistols' product in all world territories including those covered by the Barclay/Nippon Columbia deals, and America.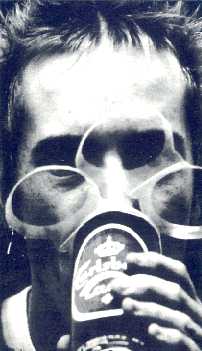 "That felt like we'd arrived, because there was a sense of respect with Virgin. I've always liked Richard Branson because, pompous rich twat that he is, he has a great sense of rebelliousness. It really didn't matter what was on the cheque. We knew we wouldn't see much of it."
Johnny Rotten
(Sex Pistols)