have their second single for Island released this week. It's "Young Savage" b/w "Slipaway" (Live). Both sides are original songs and were produced by Steve Lillywhite. The "B" side was recorded live at the band's Rainbow concert (19/2/77). As an incentive to buy, the first 10,000 are in a special cut 'n' paste collage sleeve designed by singer John Foxx.For more info go
here
.
COCKSPARRER
from the depths of East London have their new single out "Running Riot" "Sister Suzie" released on Decca Records today. It didn't come with a picture sleeve but the NME described the single as, "New wave for the Woolworth's crowd. Punk by numbers." but this band who are rough round the edges, follow West Ham and have a local firmn of heavies as their biggest fans were the true pioneers of streetpunk as we know it today. The sleeve depicts a pitch invasion by UK hooligans.
TELEVISION
BLONDIE
CORTINAS
The Television/Blondie tour ends
at Colston Hall, Bristol tonight.
Television appear on British TV's Old Grey Whistle Test tonight performing live in the studio.
"There were fist-fights onstage.
In England it was Jimmy Destri and Chris Stein. One night, in Bristol, suddenly the stage wasn't there any more and I landed on my back. The bouncers picked me up, threw me onto the stage and we went into an encore."
Gary Valentine (Blondie)
Tanya Hyde And The Tormentors
play Great Harry, Helmel Hempstead.
FAST BREEDER
WARSAW
Manchester, Rafters
T.R.B.
London, Hope & Anchor
THE POLICE
SKREWDRIVER
London, The Putney Rail Hotel
Patti Smith
Group begins a nine-day residency at CBGB's, New York...can the Bowery with stand it?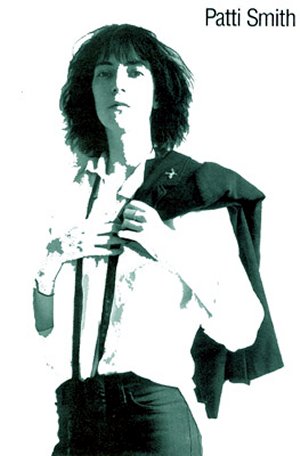 play Wolverhampton Civic Hall tonight.
"This is a song about intimidation," mouths Cornwell onstage at Wolverhampton Civic Hall - introducing "I Feel Like A Wog", a splendid piece of urban psychosis with the characteristic Gothic Stranglers flavour supllied by Dave Greenfields manic, yet ecconomic keyboards.
(NME June 18th 1977)
The Ramones
Talking Heads
play Swindon, Brunel Rooms tonight. Meanwhiler The Ramones 'Leave Home' album peaks at number 45 in the UK album charts.