ADAM AND THE ANTS
Adam Ant approached the ICA and told them that he had a country & western band and asked if they could play. Thus, the Ants make their official debut at the Institute Of Contemporary Arts restaurant at lunchtime. Adam appeared onstage in his leather gear with a hood and chains then began singing "Beat My Guest." Immediately following the number, the woman who had booked them, paid them their £8 and asked them to leave quietly. They were being enjoyed by at least one student. John Dowie asked them to come and finish their set during the break in his show later that night at the ICA Theatre.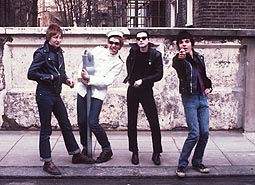 THE DAMNED
have been invited back again to the BBC studios to record some songs for the John Peel Radio program. Tracks recorded tonight are new songs like "Sick Of Being Sick," "Stretcher Case Baby" plus "Feel The Pain." They've also cut a new version of "Fan Club." The session is scheduled to be aired on the evening of the 16th May.

Buzzcocks, Subway Sect and The Slits play Kidderminster, Town Hall tonight and not one seat was seen hurtling through the air.

play Manchester, Chorlton Oaks Hotel
siouxsie and the banshees
play Enfield Polytechnic tonight