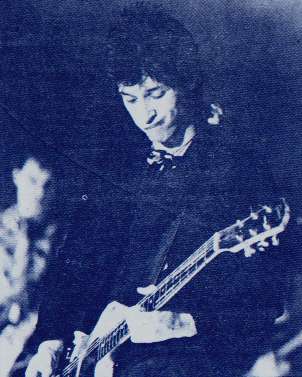 The Heartbreakers were also in Olympic Studios, earlier today mixing 'Going Steady'.
The Heartbreakers
Siouxsie and The Banshees
Rings
MUSIC MACHINE
AS VENUES go, the recently opened Music Machine in Camden Town rates fairly high on the puntermeter. Similar to the Lyceum (or as Nick Kent claims, to an Italian disco), there's lots of balconies, several bars, large dance floor, elevated stage some twenty feet off the ground and a foyer which offers sundry delights like pinball and pool. The bouncers are also surprisingly good natured
Wayne County handled the disks perched in a control booth modelled to look like a giant jukebox..I watched Rings for a good ten minutes before grokking on the fact that the lead singer was none other than Twink, ex-Fairies drummer, who has undergone a severe restyling job.
Gone are the waist-length curls and velvet suits of yesteryear, to be replaced by a close crop, ragged denim and heavy shades. The band rock out in style, running through a mixture of originals plus old MC5 numbers, but Twink's Iggy impersonation conies over more like the Notre Dame hunchback.
If they ever have another Nuremburg Rally, Siouxsie and The Banshees will be there. Siouxsie, welded into a pair of patent leather, stilletto-heeled waders, striped T-shirt and black jacket with a Nazi spreadeagle lapel badge, screeched, barked and grunted her way through a whole mess of unintelligible lyrics, occasionally executing a quick jackboot shuffle. The Banshees, led by an athletic carrot-haired lead guitarist, attacked every tune in high decibel fashion, reducing them all to the same electric power whine. Pointless, mindless, whacked out muzak.
By now the artists' bar was playing host to a gathering of the clans with Rotten and his bodyguard, members of The Damned and Blondie all in evidence.
Johnny Thunders and crew blew on and launched straight into their anthem, "Chinese Rock", sparking off a wild wave of pogoing down below. They were much tighter than when I'd last copped them at the Roxy but lacked the manic aggression they'd displayed that night - when they looked little short of desperate. With only a few seconds between numbers they lashed through "Born To Lose", "All By Myself", "Pirate Love", "I Wanna Be Loved By You" and, for an encore, a dynamite version of The Contours' "Do You Love Me". Thunders displayed his guitar class, with Walter Lure providing solid upfront support. On this showing The Heartbreakers can confidently take on all-comers.
(DickTracy - N.M.E. May 28th 1977)