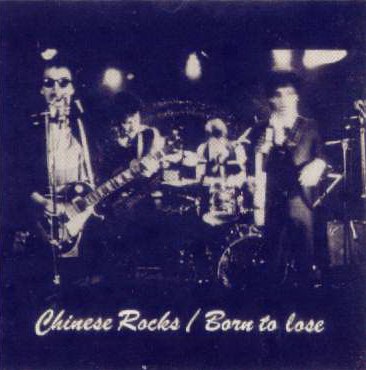 HEARTBREAKERS
Chinese Rocks (Track) 1977
For an allegedly high-powered, high-energy, high-pressure and generally high band like The Heartbreakers, this has all the raunch of a tractor reversing out of a swamp. The song - composed by Johnny Thunders, drummer Jerry Nolan, and special friends Richard Hell and Dee Dee Ramone - is a celebration of being the kind of nurd who gets into heroin. Anyone who sings "I'm living on a Chinese Rock " deserves to be marooned on one - you cool fool!
(Charlse Shaaar Murray - NME May 28th 1977)
By the time Johnny Thunders formed The Heartbreakers with ex-Television bassplayer Richard Hell, he was a junkie. When Hell showed him Dee Dee Ramone's three-chord smack anthem (written with Hell's help), Thunders took the song as his own. Recorded by the Hell-less Heartbreakers, 'Chinese Rocks' was released with a Thunders' credit. Richard Hell never forgave him.